OmiseGo (OMG)
OmiseGo (OMG) price, charts, market capitalization, history. Check OmiseGo live and history price in charts and tables, do analysis with special OMG tools below. OmiseGO is ideal for transferring value across different asset types and currencies. Using this Ethereum-based network, any person can perform financial transactions such as B2B commerce, payroll deposit, supply-chain finance, remittances and asset management and trading, as well as other business services, in a decentralized and inexpensive manner. As a highly performing decentralized network, OmiseGO unlike most decentralized exchange platforms allows for decentralized exchange between multiple blockchains tokens such as ERC-20 and cryptocurrency directly without a trusted gateway token. OmiseGO seeks to build decentralized exchange, clearinghouse messaging network, liquidity provider mechanism, and asset-backed blockchain gateway. OmiseGO was built as a solution to the problem of coordination amongst gateways, payment processors, and financial institutions. By enabling decentralized on public blockchains at low costs and high volumes.
OmiseGo current price:
$1.025093619
0.00011958 BTC
Market Cap
$143,764,663
16,770.54 BTC
Volume (24h)
$90,997,759.66
10,615.14 BTC
Circulating Supply
140,245,398 OMG
Total Supply
140,245,398 OMG
OmiseGo price chart
Currency converter
OmiseGo (OMG)
OMG
US dollar (USD)
USD
1 OMG to USD = 1.0251 USD
Euro (EUR)
EUR
1 OMG to EUR = 0.9274 EUR
British Pound (GBP)
GBP
1 OMG to GBP = 0.7942 GBP
Add new currency to currency converter:
OmiseGO - features, advantages, entrance
Some features that make OmiseGO unique are:
It doesn't require the user to have a bank account thus limiting the amount of personal information which is required.
In addition, it is easily accessible and can be used by all types of users because of its simple user interface.
Also, it helps in facilitating instant payment.
It is extremely reliable and secure in nature and is highly interactive in nature.
It is cheap as it can be made available in a huge amount for a surprisingly low cost.
On June 7th, 2017, the pre-sale for the OmiseGO token opened but ended so fast. Because 450 people pledged around $60 million for a sale which was originally capped at $19 million, the ICO for OmiseGO which was supposed to hold on the 27th of June was cancelled as the capped was already reached.
There exists a fundamental problem of coordination amongst gateways, financial institutions and payment processors especially when it comes to performing transactions across networks. These transactions usually have to go through a central clearing house or nostro/vostro accounts. Some of these include CHIPS. SWIFT, OCC, Fed Wire and consumer card payment which perform different functions including international payments, credit, asset exchange, local and/or national payments, and derivatives. Also, because transactions go through a central network, the resulting effect is a huge transaction costs because of due diligence, information costs and contracts between parties.
OmiseGO seeks to end all of this financial mayhem by providing by decentralizing these centralized business processes and providing OmiseGO users with a way to perform this transactions in a high-performant and open network. It seeks to provide the public with cutting-edge financial technology powered by Ethereum that enables real-time, payment services and peer-to-peer value exchange services to be performed across organizational and jurisdictional lines, and between decentralized currencies and fiat money with the use of digital wallets.
OmiseGO announced on the 7th of August 2017 that it will issue 5% of its total tokens to Ethereum-blockchain wallet addresses in the near future through a massive disbursement or an airdrop. This Ethereum blockchain-based payment company has decided to set itself apart by issuing an amount of 5% in the amount proportionate to every Ethereum blockchain address that has a balance of over 0.1. With this airdrop gesture, the OmiseGO has made a distinction from other currencies such as the BTC, Litecoin and ETH. To purchase OmiseGo tokens, the easiest way is to sign up and create a Coinbase account, use fiat money to buy Bitcoin or Ethereum, then trade the BTC or ETH for OmiseGo tokens (OMG). OmiseGO provides a decentralized and easily accessible platform for performing financial transaction in real time.
OmiseGO Founded in 2013 by a venture-backed payments company which operates in Japan, Singapore, Thailand and Indonesia.
Gregg
2 years ago
OmiseGo just received Prime Minister Digital startup of the year award from PM of Thailand.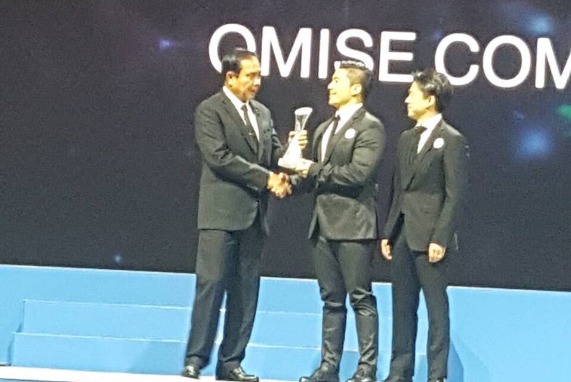 For Thailand? How many digital start up companies are in Thailand?
fake digital Rolex won it last year
Brenton, more than you think, probably